The original art of each Flashbacks story is for sale, as well as signed prints ideal for framing.
For prices, and to see what an original looks like, CLICK HERE.
The Story of the Reaper
There will be at least eight parts to this story because the reaping machine did more than any other mechanical devise up to that time in American history to change our economy, our culture, and our society.
I plan to show that the invention of the reaper signaled the death knell of slavery. And, as an aside, a lawsuit over the reaper helped gain national recognigion of a country lawyer named Abraham Lincoln.
Here, then, is part one.
As the weeks go by, scroll down for, as the great Paul Harvey said, "The Rest of the Story.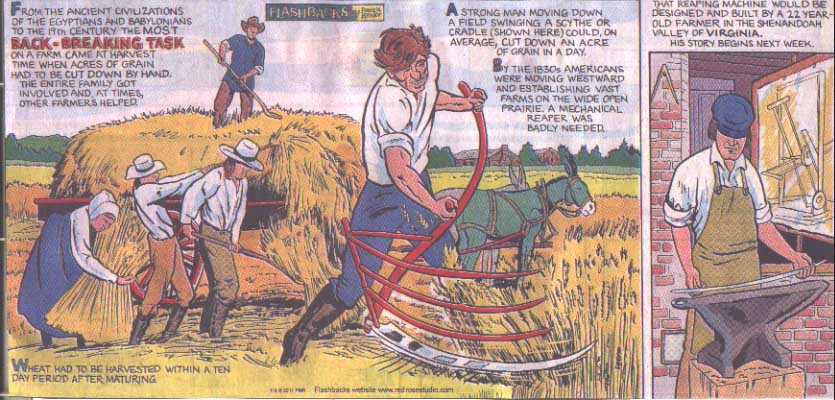 Part 2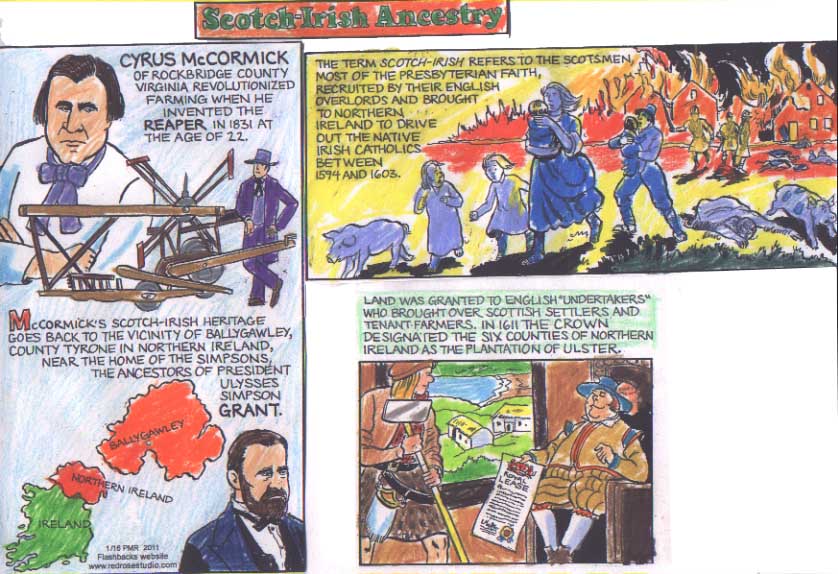 Part 3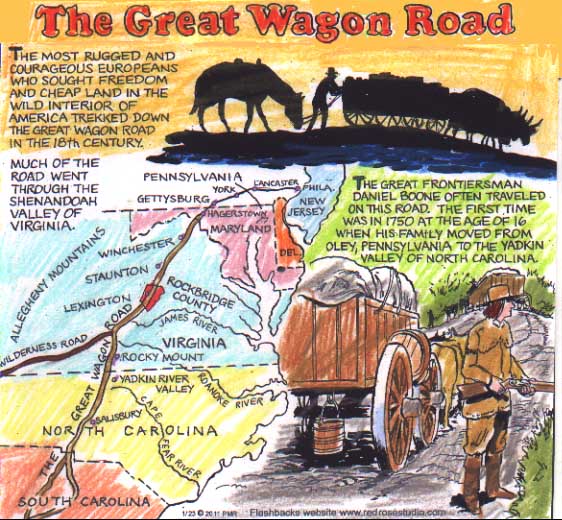 Part 4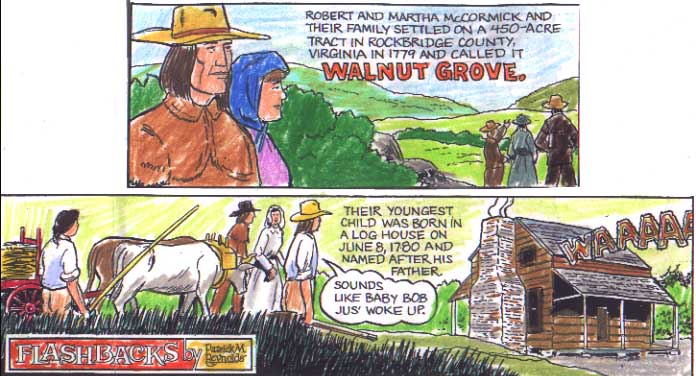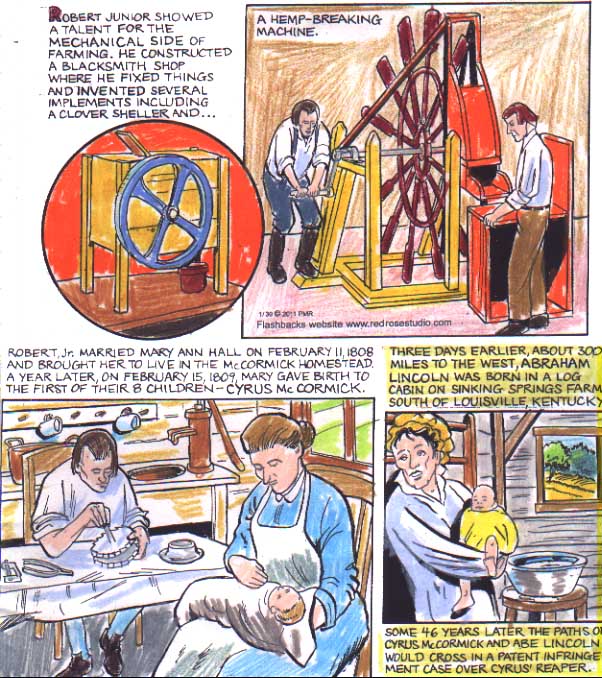 Part 5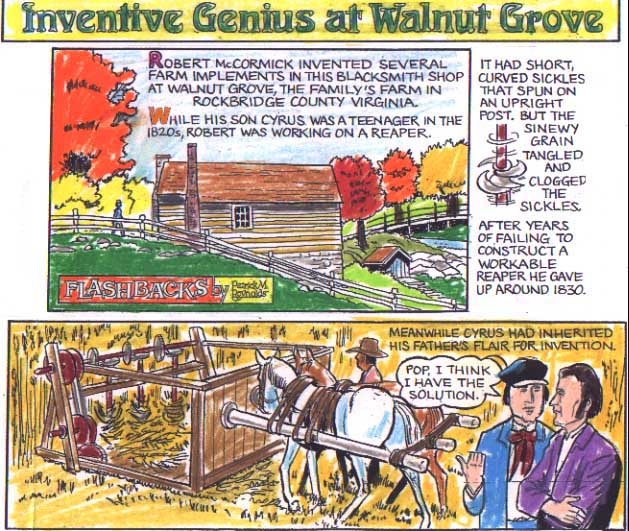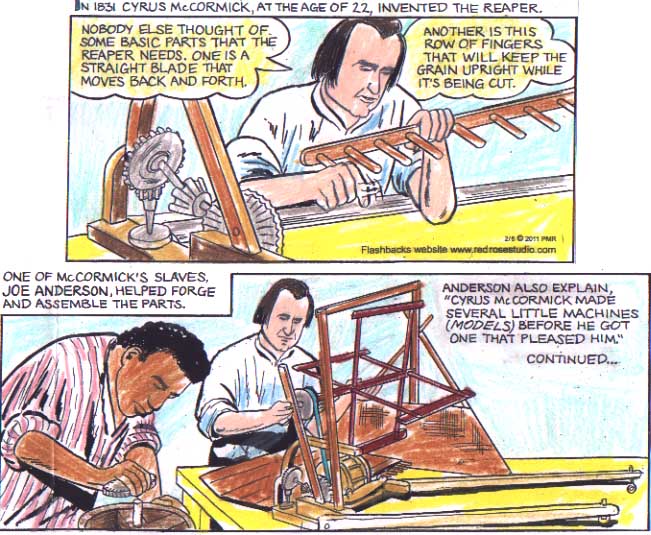 Part 6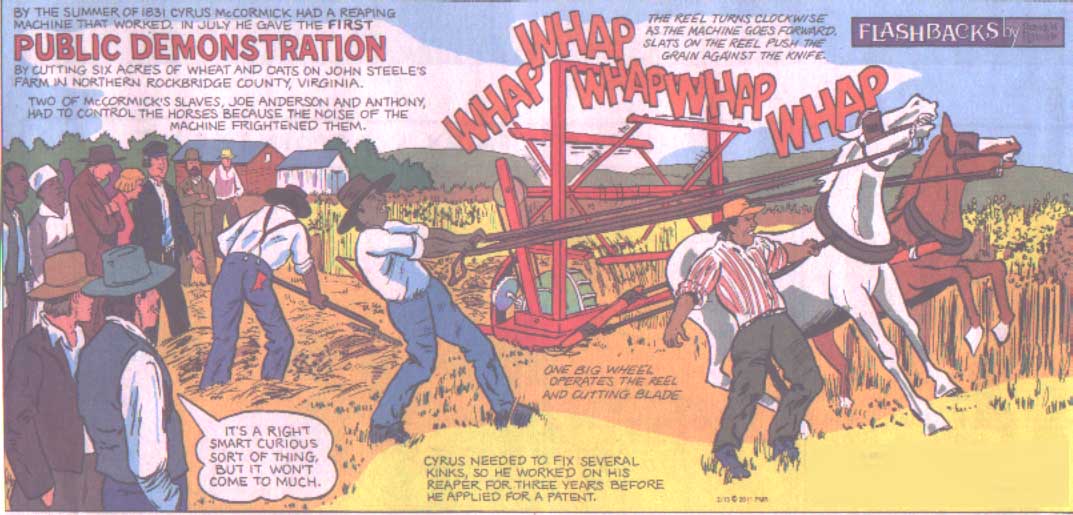 Part 7 (Note, this story will continue later this year).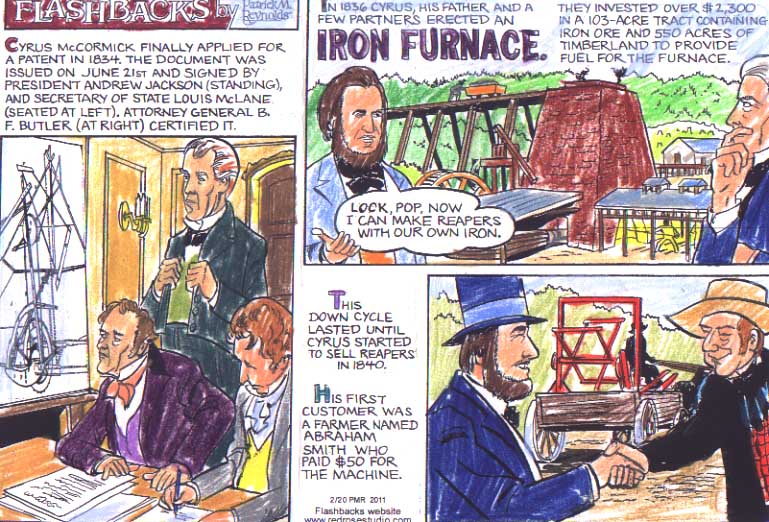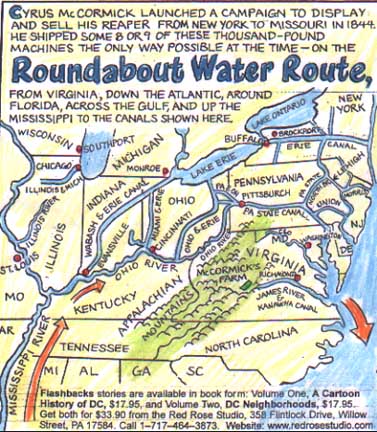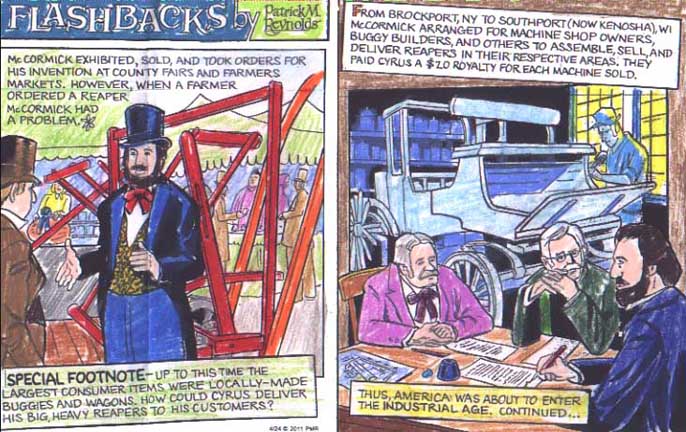 Part 10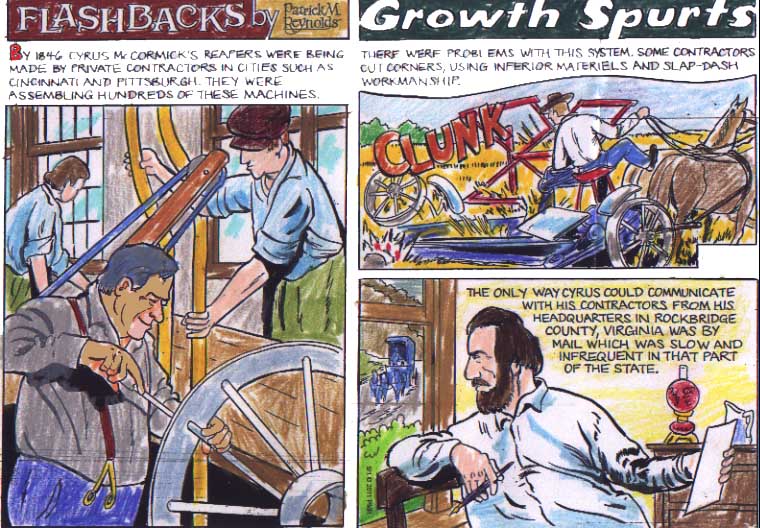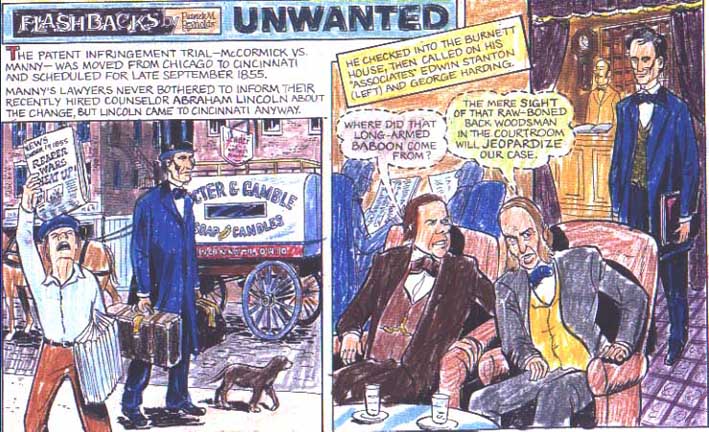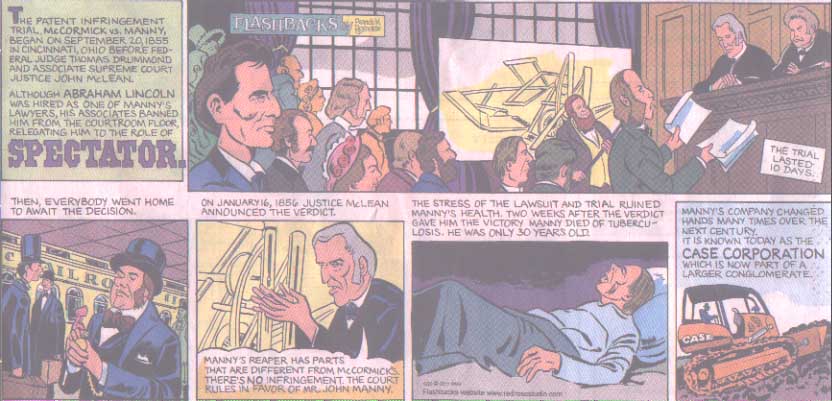 This story is continued on The Reaper Trial.

American Inventions and Inventors
by William Augustus and Arthur May Mowery
Published in 1910, this rare book has long gone out of copyright and is in the public domain, so you can copy anything out of it. Originally used as a "reader" in grammar schools (today's middle schools), it covers the stories behind inventions in the fields of energy, mining, light, food, farming, clothing, travel, literature, and communication.
7½" x 9¾" 306 pages, index, illus., paperbound
#514 American Inventors $33.95

A. Lincoln–A Biography by Ronald C. White, Jr.
Of all the bios of Lincoln this is one of the best because the narrative reads like a modern, intriguing, gossipy, documentary film..
The title "A. Lincoln," comes from the way Lincoln signed his name. You can divide the book in half: the first half is his life up to the election of 1860; the second covers his crises, personal tragedy, challenges, personality conflicts, and triumphs of his presidency. What is especially helpful is the cast of characters (with mini-biographies) at the beginning of the book.
6" x 9" 796 pages, index, photos, paperbound
#515 A. Lincoln $20.00
Flashbacks Volume One
A Cartoon of the District of Columbia Flashbacks Volume One Patrick M. Reynolds brings history to life with a sense of humor. His exciting drawings put you on the scene with the conflicts, madness, plus the wheeling and dealing that resulted in the location and construction of the U.S. capital city. This book covers the early history of DC from 1776 to 1863. You'll be surprised at how many cities served as the U.S. capital; you'll be amazed that the city was built--despite all the bickering, petty jealousies, and down-right stupidity.
11¾" x 7½" 106 pages, full color illustrations, index, paperbound ISBN 0-932514-31-6
#F1 Cartoon History of DC $25.00
Flashbacks Volume Two
DC Neighborhoods Flashbacks Vol. Two Artist-writer Patrick M. Reynolds takes you to the Washington that tourists seldom see The U.S. capital expanded with the growth of public transportation into such areas as Shepard Park, Takoma Park, Chevy Chase, Kalorama, Dupont Circle, Adams Morgan, Capital Hill, LeDroit Park, Tenleytown, Brookland, and others. Stories in this book go back to the explorations of Capt. John Smith in the 1600s and the Indian Wars of early Virginia, continuing into the 20th century with the introduction of the cherry trees to Washington and the end of segregation in public schools.
11¾" x 7½" 106 pages, full color illustrations, index, paperbound ISBN 0-932514-33-2
#F2 Cartoon History of DC $14.95
Previous weeks' stories and references:
Animals...Atomic Bomb....Arlington National Cemetery...Aviation History....Bernard Baruch...Black History....Black Basketball in Washington...Black Labor Unions...National Archives...Children...Constitution-How & Why we got it...Civil War... Autocamping...American Presidency...Auto Racing...Baseball History...the Bible & the Presidency...Blizzard of 1888...Bubble Houses...Chinese...Combat Artists...The CCCs Civilian Conservation Corps...Declaration of Independence...DC Neighborhoods...The Ghost Army of WWII... Artists in War The Limb Maker...Duke Ellington...Ferries Across the Chessie .. Food History,,, HOLIDAYS...German Americans...Italian Americans...The Italian Crisis...Ninian Beall Sequence.....UFOs Over Washington... Culpeper of Virginia...The Spanish Flu Epidemic of 1918...Indians of the Eastern Shore of MD & VA... Pirates on the Chesapeake...Chesapeake Beach...Quiltmaking...Chesapeake Bay Stories...Ghost stories... Maryland History...Movie History ...Music History...Naval History (Seebees, Armed Guard, etc)...Rock & Roll History...Hoover Airport....Robert Smalls....Slavery...Swampoodle...Sports...Tennis...Origins of Words & Phrases...Inventions...Railroads...Treaty of Paris...Virginia History...Washington, DC History...Nazis in America...Wilkes Expedition...Stamps...Women...Girl Scouts...V-Mail...Word Origins...Saint Brendan
Contact us: e-mail: pat@redrosestudio.com or pmr14@verizon.net
Phone 717 464-3873
Link: URL: http://www.artlinkslist.com/
Description: Arts Directory