This is a four-part series on the Chinese who helped build the First Transcontinental Railroad:
Part One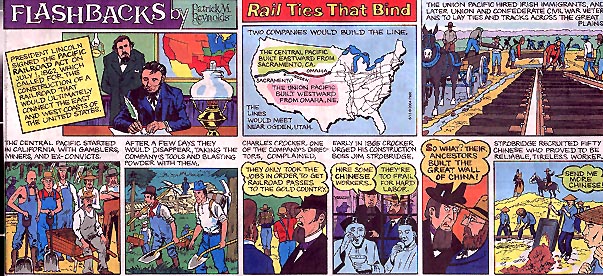 Part two appeared June 20, 2004


Part Three - June 27, 2004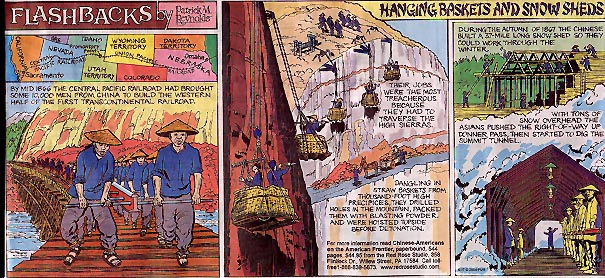 Part 4 - July 4, 2004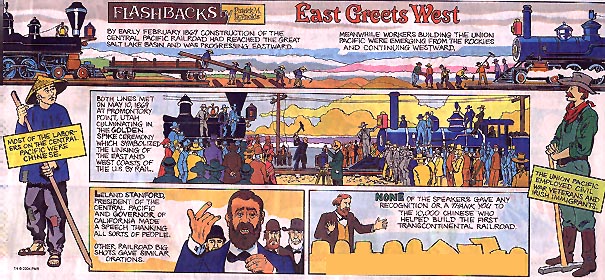 These books are excellent references on Chinese heritage.
To order, call toll-free at 1-888-839-5673.

Chinese on the American Frontier
Essays written by various professors, experts, and scholars, The book is divided into sections on California, Arizona, Nevada, Texas, New Mexico, Oregon, Washington, Idaho, Utah, Colorado, Wyoming, Montana, and South Dakota. Some of the stories include the building of the transcontinental railroad, the Snake River Massacre of Chinese miners in 1887, Denver's Anti-Chinese Riot of 1880, the Pierce City Indicent of 1885-1886, Polly Bemis-Legendary Heroine, and more.
6" x 9" 506 pages, index, paperbound
$458 Chinese on American Frontier $44.95

The Chinese Americans by Benson Tong
This is a revised version of a work originally published in 2000 which traces the Chinese history in the United States from the 1780s to the present. There are first-hand accounts of how Chinese immigrants faced racism and stereotyping. The author exposes family issues of Chinese in America, women and gender disparity, labor and exclusion, reconfiguration of Chinatown and sublimation. The author takes on the grassroots response to anti-Asian violance which follows up with political mobilizaton and enpowerment. The book is an interesting read for people of all ethnic backgrounds.
6" x 9" 307 pages, index, photos, paperbound
#459 Chinese Americans $26.95
Would you like to own an original Flashbacks cartoon?
Click Here.

Here are two volumes containing reproductions of Flashbacks cartoons:

A Cartoon of the District of Columbia Flashbacks Volume One Patrick M. Reynolds brings history to life with a sense of humor. His exciting drawings put you on the scene with the conflicts, madness, plus the wheeling and dealing that resulted in the location and construction of the U.S. capital city. This book covers the early history of DC from 1776 to 1863. You'll be surprised at how many cities served as the U.S. capital; you'll be amazed that the city was built--despite all the bickering, petty jealousies, and down-right stupidity.
11¾" x 7½" 106 pages, full color illustrations, index, paperbound ISBN 0-932514-31-6
#F1 Cartoon History of DC $25.00

DC Neighborhoods Flashbacks Vol. Two Artist-writer Patrick M. Reynolds takes you to the Washington that tourists seldom see The U.S. capital expanded with the growth of public transportation into such areas as Shepard Park, Takoma Park, Chevy Chase, Kalorama, Dupont Circle, Adams Morgan, Capital Hill, LeDroit Park, Tenleytown, Brookland, and others. Stories in this book go back to the explorations of Capt. John Smith in the 1600s and the Indian Wars of early Virginia, continuing into the 20th century with the introduction of the cherry trees to Washington and the end of segregation in public schools.
11¾" x 7½" 106 pages, full color illustrations, index, paperbound ISBN 0-932514-31-6
#F2 Cartoon History of DC $14.95