August 2, 2003


Back in the 1890s, it was not enough to start a resort on the shore. Its investors and contractors had to come up with a way of getting people to their property. In most cases, this mean building a railroad.

The Chesapeake Beach Railway by Ames W. Williams
The founders of the new resort, Chesapeake Beach, realized that they needed a railroad to connect their town to Washington and Baltimore. They presented their story to a successful railroad magnate named Otto Mears, a pioneer narrow-gauge railroad builder in Colorado. Mears moved east and built the Chesapeake Beach Railway. The line flourished for almost 35 years. It was done in by the growing popularity of automobiles and the Great Depression of the 1930s. After the CBRW folded, it was replaced by the East Washington Railway. Predominantly a coal carrier with a three-mile right-of-way, the East Washington had produced revenues beyond the fondest expectations of its predecessor.
6" x 9" 237 pages, index, illustrated, hardbound
#433 Ches Beach Railway $24.95

Own a piece of original cartoon art!
Shown below is a photo of the original art for this story on Cheaspeake Beach. Notice that it is done in black and white. The color is added electronically by a company in Buffalo, NY. The drawing of Chesapeake Beach and boardwalk was copied from a model in the Chesapeake Beach Railway Museum. The drawings of the ox-cart, hotel, ferryboat & pier, etc were done separately and pasted over the base drawing of the Beach. The cost of this original, as seen in this photo, is $300 plus shipping.
To order, call us toll-free at 1-888-839-5673.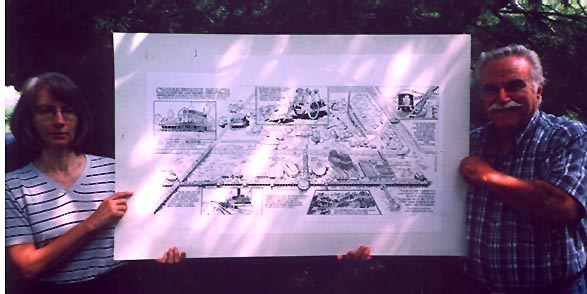 Here are two volumes containing reproductions of Flashbacks cartoons:

A Cartoon of the District of Columbia Flashbacks Volume One Patrick M. Reynolds brings history to life with a sense of humor. His exciting drawings put you on the scene with the conflicts, madness, plus the wheeling and dealing that resulted in the location and construction of the U.S. capital city. This book covers the early history of DC from 1776 to 1863. You'll be surprised at how many cities served as the U.S. capital; you'll be amazed that the city was built--despite all the bickering, petty jealousies, and down-right stupidity.
11¾" x 7½" 106 pages, full color illustrations, index, paperbound ISBN 0-932514-31-6
#F1 Cartoon History of DC $25.00
DC Neighborhoods Flashbacks Vol. Two Artist-writer Patrick M. Reynolds takes you to the Washington that tourists seldom see The U.S. capital expanded with the growth of public transportation into such areas as Shepard Park, Takoma Park, Chevy Chase, Kalorama, Dupont Circle, Adams Morgan, Capital Hill, LeDroit Park, Tenleytown, Brookland, and others. Stories in this book go back to the explorations of Capt. John Smith in the 1600s and the Indian Wars of early Virginia, continuing into the 20th century with the introduction of the cherry trees to Washington and the end of segregation in public schools.
11¾" x 7½" 106 pages, full color illustrations, index, paperbound ISBN 0-932514-31-6
#F2 Cartoon History of DC $14.95