This two-part story appeared on February 9 and 16, 2003.
Reference was a book titled Capital Losses, which is out of print. It is available at various libraries. We found a copy at the Franklin & Marshall College Library.
A book on early aviation is shown below this story.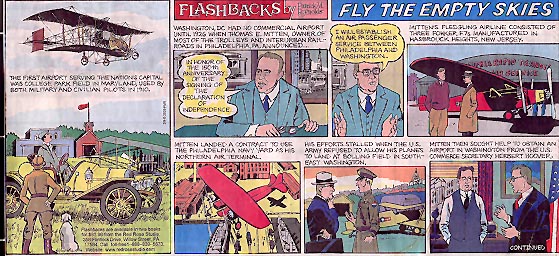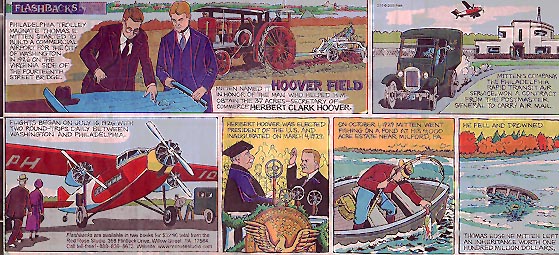 Hoover field is not mentioned in this book, but it is an excellent source of early flying machines.

Picture History of Early Aviation, 1903–1913
by Joshua Stoff
The author's exciting text and over 300 vintage photos introduce the early pioneers of flight and their aircraft: Otto Lilienthal, who developed and flew the first man carrying gliders; Octave Chanute, the creator of the biplane glider. Samuel Langley, whose craft were catapulted into the air from a houseboat on the Potomac River, and the Wright brothers who, in 1903, achieved the first powered, sustained, and controlled flight in history. Other notable figures include Louis Blériot, Jacob Ellehammer, Henri Farman, and others. Special sections are devoted to the great flying meets of the period, to plances that looked promising but never got off the ground, planes that crashed, and those craft desighed for fighting.
8¾" x 11¾" 136 pages, index, illustrated, paperbound
#317 Early Aviation $15.95
Here are two volumes containing reproductions of Flashbacks cartoons:

A Cartoon of the District of Columbia Flashbacks Volume One Patrick M. Reynolds brings history to life with a sense of humor. His exciting drawings put you on the scene with the conflicts, madness, plus the wheeling and dealing that resulted in the location and construction of the U.S. capital city. This book covers the early history of DC from 1776 to 1863. You'll be surprised at how many cities served as the U.S. capital; you'll be amazed that the city was built--despite all the bickering, petty jealousies, and down-right stupidity.
11¾" x 7½" 106 pages, full color illustrations, index, paperbound ISBN 0-932514-31-6
#F1 Cartoon History of DC $25.00
<"http://ww5.aitsafe.com/cf/add.cfm?userid=7098377&product=F1+-+A Cartoon History of the District of Columbia&price=25.00&units=25.00">
DC Neighborhoods Flashbacks Vol. Two Artist-writer Patrick M. Reynolds takes you to the Washington that tourists seldom see The U.S. capital expanded with the growth of public transportation into such areas as Shepard Park, Takoma Park, Chevy Chase, Kalorama, Dupont Circle, Adams Morgan, Capital Hill, LDroit Park, Tenleytown, Brookland, and others. Stories in this book go back to the explorations of Capt. John Smith in the 1600s and the Indian Wars of early Virginia, continuing into the 20th century with the introduction of the cherry trees to Washington and the end of segregation in public schools.
11¾" x 7½" 106 pages, full color illustrations, index, paperbound ISBN 0-932514-31-6
#F2 DC Neighborhoods $14.95
<"http://ww5.aitsafe.com/cf/add.cfm?userid=7098377&product=F2+-+DC Neighboroods&price=14.95&units=14.95">