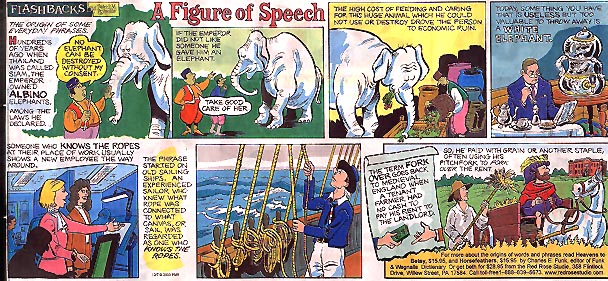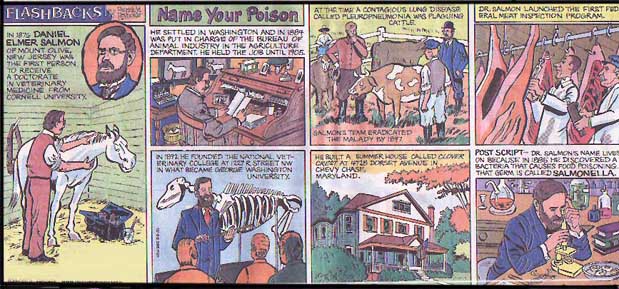 Horsefeathers & Other Curious Words
by Charles Earle Funk
Know why the candy is called butterscotch; why a certain southern food is called hush puppy; why log supports in a fireplace are known as andirons or sometimes firedogs? The editor-in-chief of the Funk and Wagnalls Standard Dictionary tells about the origins of over 600 words such as cubbyhole, stevedore, hornswoggle, crowbar, juke box, tantamount, handkerchief, and more.
5¼" x 8" 240 pages, index, drawings, paperbound
#437 Horsefeathers $12.95

If you ever wondered why when you're in a hurry, you were told to hold your horses, wonder no more!
Heavens to Betsy & Other Curious Sayings
by Charles Earle Funk Wheter
Whether it's like a bump on a log or a bat out of hell, these expressions have been around forever, but we've never really known why...until now. Finally Dr. Funk explains more than 400 droll, colorful, and sometimes pungent expressions of everyday speech. Derived from classical sources, famous literature, frontier humor, and the frailties of humankind, each of these sayings has an interesting story behind its origin.
5¼" x 8" 224 pages, index, drawings, paperbound
#407 Heavens to Betsy $12.95


The City in Slang by Irving Lewis Allen
The American urban scene has given us a rich cultural legacy of land words and phrases such as hot dog, rush hour, gold digger, shyster, buddinsky, smart aleck, yellow journalism, and straphanger. Irving L. Allen shows how this vocabulary arose from city streets, often inter playing with vaudeville, radio, movies, early 20th century comics.
6½" x 9½" 307 pages, index, hardbound
#462 City in Slang $24.95

The Name's Familiar by Laura Lee
Did you know that the words "lynch," "goblin," "hooligan," "boycot," "hooker," and "guillotin," once belonged to real people? Laura Lee introduces you to the actual people who inspired, conspired, or wer just plain unlucky enough to have their names immortalized. For example: Mary Elizabeth Sawyer had a little lamb. The Reverend Thomas Lushington was the first "lush." Jules Leotard wore tight pants. And yes, there really was a Peggy Sue, a Duke of Earl, a Barbie, a Dennis the Menace, a Chef Boyardee, a Huey, Dewey, and Louie, and a Rambo.
5½" x 8½" 312 pages, paperbound
#111 Name's Familiar $14.95

The Name's Familiar II by Laura Lee
The author had so many names left over from the first book that she wrote a second volume. Here are a few: Paul Iams failed at making orange soda before he concocted dog food. William Bristol and John Ripley Myers manufactured pills in Brooklyn. Michael Dell started to sell computers out of his dorm room at the University of Texas. Patience Muffet sat on a tuffet. And there really was a Nathan Handwerker who sold his famous hot dogs in Coney Island. Cliff Hillegass got the idea for "CliffsNotes" from a Canadian's study guides called "Cole's Notes."
5½" x 8½" 368 pages, index, paperbound
#112 Name's Familiar $14.95

Why You Say It by Webb Garrison
Great Scott! This does not beat around the bush. It spills the beans with the scuttlebutt on the screwball origins of over 600 terms in our lingo. Most blurbs will tickle your funny bone. The upshot of it all is that we cannot hype this book enough.
5¼ x 8½" 356 pages, paperbound
#185 Why You Say It $14.95
Would you like to own an original Flashbacks cartoon?
Click Here.

Here are two volumes containing reproductions of Flashbacks cartoons:

A Cartoon of the District of Columbia Flashbacks Volume One Patrick M. Reynolds brings history to life with a sense of humor. His exciting drawings put you on the scene with the conflicts, madness, plus the wheeling and dealing that resulted in the location and construction of the U.S. capital city. This book covers the early history of DC from 1776 to 1863. You'll be surprised at how many cities served as the U.S. capital; you'll be amazed that the city was built--despite all the bickering, petty jealousies, and down-right stupidity.
11¾" x 7½" 106 pages, full color illustrations, index, paperbound ISBN 0-932514-31-6
#F1 Cartoon History of DC $14.95

DC Neighborhoods Flashbacks Vol. Two Artist-writer Patrick M. Reynolds takes you to the Washington that tourists seldom see The U.S. capital expanded with the growth of public transportation into such areas as Shepard Park, Takoma Park, Chevy Chase, Kalorama, Dupont Circle, Adams Morgan, Capital Hill, LeDroit Park, Tenleytown, Brookland, and others. Stories in this book go back to the explorations of Capt. John Smith in the 1600s and the Indian Wars of early Virginia, continuing into the 20th century with the introduction of the cherry trees to Washington and the end of segregation in public schools.
11¾" x 7½" 106 pages, full color illustrations, index, paperbound ISBN 0-932514-31-6
#F2 Cartoon History of DC $14.95