The original art of each Flashbacks story is for sale, as well as signed prints ideal for framing.
For prices, and to see what an original looks like, CLICK HERE.
Part One of Three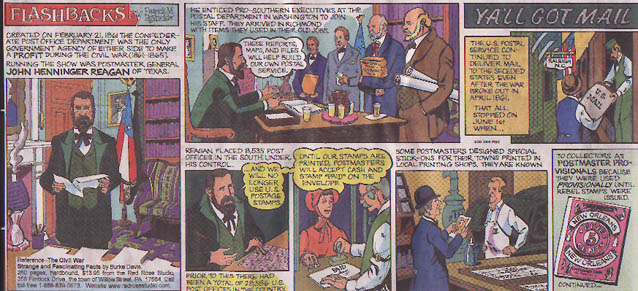 Part Two of Three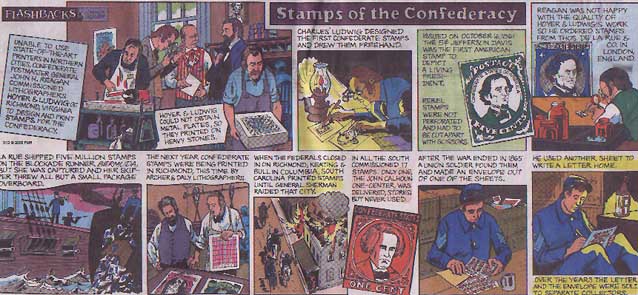 A brief history of Confederate postage stamps and currency start on page 186 in this book

The Civil War Strange & Fascinating Facts by Burke Davis
Wonderfully entertaining, this almanac takes a new look at the personalities and events of the years 1861–1865. Among the "firsts" of this era were the submarine, the snorkel, the income tax, aerial reconnaissance, the first black Army officer. Also: the symbols of the Confederacy, famousonlookers, whatever happened to some of the famous and lesser-known characters; and more.
6¼" x 9¼" 249 pages, illustrated, hardbound
#35 Civil War Facts $9.95

Part Three of Three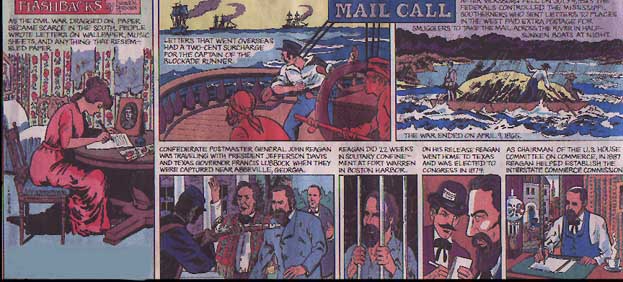 For more information on Blockade Runners we recommend this book...

Gray Phantoms of the Cape Fear–Running the Civil War Blockade
by Dawson Carr
If the South was to continue the Civil War, guns, ammo, clothing and food had to be brought into the Confederacy from Europe. Knowing this, the Union amassed a formidable blockading force off Cape Fear, North Carolina. The blockade runners were not armed, lest their crews be considered pirates if captures. Neither did the Union fleet wish to sink the runners, as rich prized were the reward for the captured cargoes. What followed was a battle of wits and stealth rather than blood and glory. As the Union naval presence grew stronger, the new breed of runners got faster, quieter, lower in the water, and altogether more ghostly–and their crews more daring and resourceful.
6" x 9" 227 pages, index, illustrated, paperbound ISBN 0-89587-213-7
#476 Gray Phantoms $14.95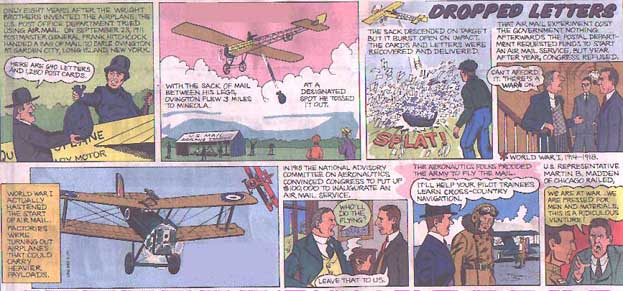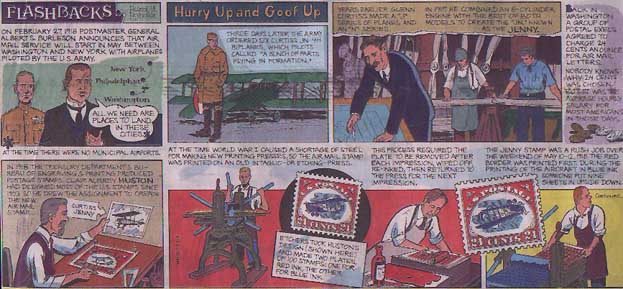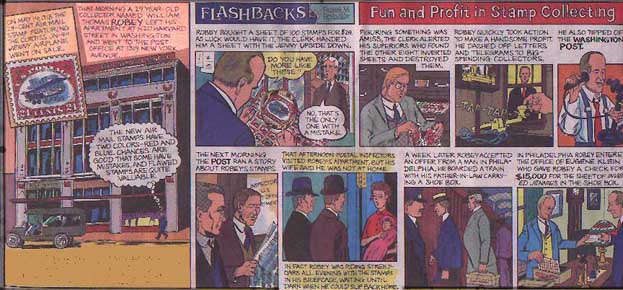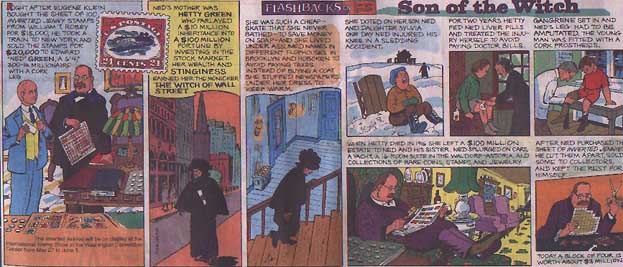 Hetty - The Genius and Madness of America's First Female Tycoon by Charles Slack
Between the Civil War and World War I lived one of the most complex and weird women in American history. The Guinness Book of World Records memorialized her as the World's Greatest Miser, and, indeed, this unlikely robber baron–who parlayed a comfortable inheritance into a fortune that was worth about $1.6 billion in today's dollars–was frugal to a fault. But in an age when women weren't even allowed to vote, never mind hold executive positions in corporations, Hetty could buy and sell businessmen and politicians, such was her economic power. Today's vilified moguls look like pussycats compared with Hetty.
5" x 8" 258 pages, index, photos, paperbound ISBN 0-06-054257-8
#480 Hetty $13.95
The Inverted Jenny–Money, Mystery, Mania by George Amick
In 1918 William T. Robey bought a sheet of 24¢ airmail stamps. The clerk handed him one of nine sheets with the airplane, a Curtiss Jenny, printed upside down. Later the Postal Dept. found and destroyed the other eight but Robey kept his and sold them a week later for $15,000. They were sold again and cut apart, and sold and resold over the next sixty years. Every stamp has been traced and researched. The Jenny tale reads like a Ludlum or Forsthe mystery thriller, complete with federal agents and chases.
6" x 9" 250 pages, index, illustrated, hardbound
#479 Inverted Jenny $13.95
Would you like to own an original Flashbacks cartoon?
Click Here.

Here are two volumes containing reproductions of Flashbacks cartoons:

Flashbacks Volume One
A Cartoon of the District of Columbia
Patrick M. Reynolds brings history to life with a sense of humor. His exciting drawings put you on the scene with the conflicts, madness, plus the wheeling and dealing that resulted in the location and construction of the U.S. capital city, despite all the bickering, petty jealousies, and down-right stupidity.

This volume is almost out of print, hence the higher price.


11¾" x 7½" 106 pages, full color illustrations, index, paperbound
ISBN 0-932514-31-6
#F1 Cartoon History of DC $25.00

DC Neighborhoods Flashbacks Vol. Two Artist-writer Patrick M. Reynolds takes you to the Washington that tourists seldom see The U.S. capital expanded with the growth of public transportation into such areas as Shepard Park, Takoma Park, Chevy Chase, Kalorama, Dupont Circle, Adams Morgan, Capital Hill, LeDroit Park, Tenleytown, Brookland, and others. Stories in this book go back to the explorations of Capt. John Smith in the 1600s and the Indian Wars of early Virginia, continuing into the 20th century with the introduction of the cherry trees to Washington and the end of segregation in public schools.
11¾" x 7½" 106 pages, full color illustrations, index, paperbound ISBN 0-932514-33-2
#F2 Cartoon History of DC $14.95
Previous weeks' stories and references:
Animals....Children...Constitution-How & Why we got it...Civil War... Autocamping...American Presidency...Auto Racing...Baseball History...the Bible & the Presidency...Blizzard of 1888...Bubble Houses...Chinese...Combat Artists...The CCCs...Declaration of Independence...The Ghost Army of WWII... Artists in War The Limb Maker...Duke Ellington...Ferries Across the Chessie .. Food History,,, HOLIDAYS...German Americans...Italian Americans...The Italian Crisis...Ninian Beall Sequence.....UFOs Over Washington... Culpeper of Virginia...The Spanish Flu Epidemic of 1918...Indians of the Eastern Shore of MD & VA...Black History... Pirates on the Chesapeake...Chesapeake Beach...Quiltmaking...Chesapeake Bay Stories...Ghost stories... Maryland History...Music History...Naval History (Seebees, Armed Guard, etc)...Rock & Roll History...Hoover Airport...Slavery...Swampoodle...Sports...Origins of Words & Phrases...Inventions...Railroads...Virginia History...Washington, DC History...Nazis in America...Wilkes Expedition
e-mail: pat@redrosestudio.com or redrosestudio@dejazzd.com