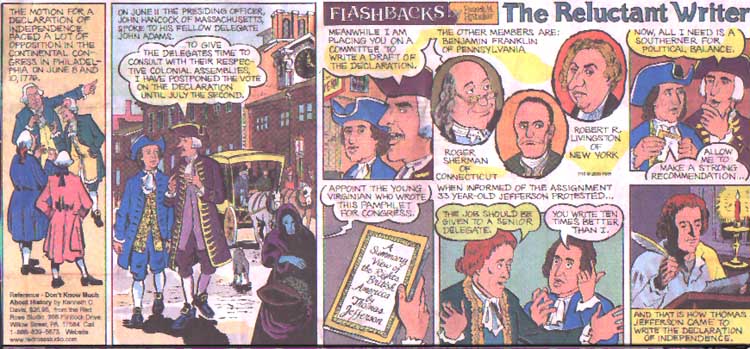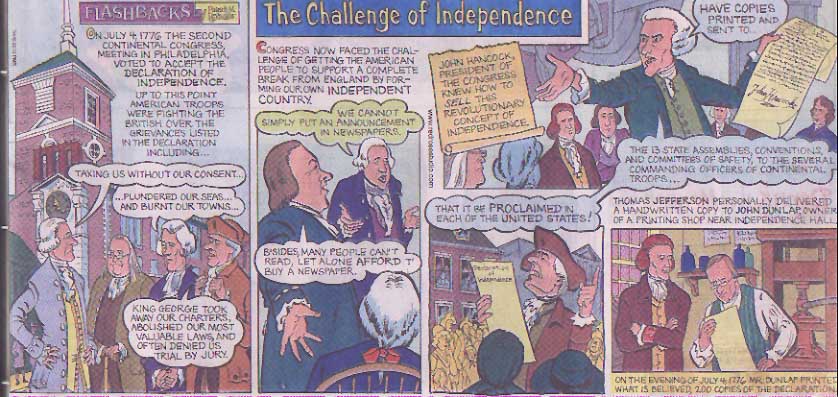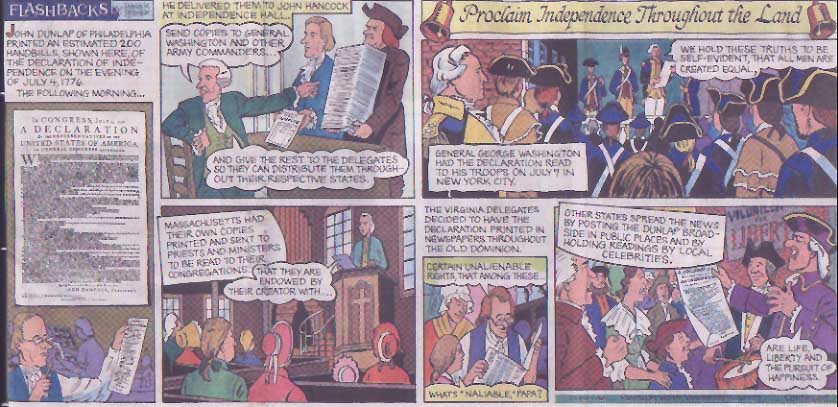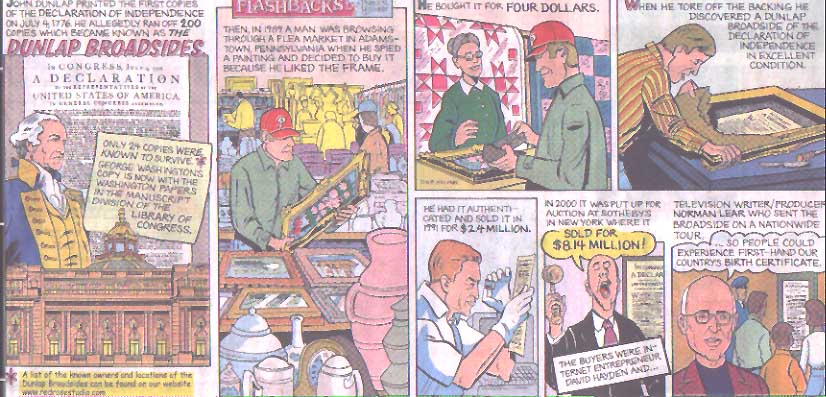 List of known existing copies of the Dunlap Broadsides:
1. Beinecke Library at Yale University, New Haven, CT
2. Library of Congress, Rare Book and Special Collection Division, Washington, DC
3. Library of Congress, Manuscript Division, Washington Papers - fragment copy with 54 lines, thought to be the copy George Washington read to the troops on July 9, 1776 in New York City.
4. National Archives, Washington, DC
5. Chicago Historical Society, Chicago, IL
6. Lilly Library at Indiana University, Bloomington, IN
7. Maine Historical Society, Portland, ME
8. Maryland Historical Society, Baltimore, MD
9. Massachusetts Historical Society, Boston, MA
10. Houghton Library at Harvard University, Cambridge, MA
11. Williamson (MA) College
12. Scheide Library, a part of the Firestone Library at Princeton University, Princeton, NJ
13. New York, NY - last known location. Sold by the New York Historical Society to a private collector.
14. New York (NY) Public Library
15. Morgan Library, New York, NY
16. American Independence Museum, NH Soc. of the Cincinnati, Exeter, New Hampshire
17. American Philosophical Society, Philadelphia, PA
18. Historical Society of Pennsylvania, Philadelphia, PA
19. Independence National Historic Park, Philadelphia, PA . This copy was originally owned by John Nixon, sheriff of philadelphia which he read to the public on July 8, 1776 in the yard of the State House, now Independence Hall. It was presented to the park by Nixon's heirs in 1951.
20. Dallas (TX) Public Library - "The Leary Copy." so called because it was found in 1968 in a crate that had been stored in Leary's Book Store, Philadelphia, PA since 1911. Ira G. Corn, JR. and HJOseph P. Driscoll of Dallas bought the broadside on May 7, 1969. Later a group of 17 bought it from Corn and Driscoll and sold it to the Dallas city government.
21. University of Virginia, Charlottesville, VA. One of two copies owned by the university. This is the " H. Bradley Martin" copy.
22. UVA, Charlottesville, VA This Dunlap Broadside was found in an attic in Albany, NY in 1955. It had been used to wrap other papers. Purchased by harles E. Tuttle Co. of Rutland, VT, later sold to David Randall who sold it in 1956 to UVA.
23. John Gilliam Wood, Edenton, North Carolina
24. Public Redore Office, Admiralty Papers, London, England, United Kingdom. Vice Admiral Richard Howe sent this copy from his flagship "Eagle," then off Staten Island, with a letter dated July 28, 1776.
25. Norman Lear's copy, known as the "Roving Copy."
26. Maria Brothers Bookstore, Shimla, India.
Don't Know Much About History–Everything You Need to Know About American History But Never Learned by Kenneth C. Davis
With humor, wit, great stories, and a controversial style, Ken Davis brings Americans a fresh new take on history. In his irreverent and popular question-and-answer style, Davis now returns witha completely revised edition that brings history right up to the moment, covering such topics ad the end of the Cold War, Clinton's impeachment, the bizarre election of 2000, and the events that led to September 11. Using new researchand discoveries, Davis also updates and expands on such long-standing controversiesas the Jeffereson-Hemings affair, the Alger Hiss trial, and the Rosenberg spy case.
6" x 9" 678 pages, index, hardbound ISBN 0-06-008381-6
#215-H Don't Know History $26.95
5¼" x 6" 678 pages, index, softbound ISBN 0-06-0083282-4 $13.95
#215-S Don't Know History $13.95
Would you like to own an original Flashbacks cartoon?
Click Here.

Here are two volumes containing reproductions of Flashbacks cartoons:

A Cartoon of the District of Columbia Flashbacks Volume One Patrick M. Reynolds brings history to life with a sense of humor. His exciting drawings put you on the scene with the conflicts, madness, plus the wheeling and dealing that resulted in the location and construction of the U.S. capital city, despite all the bickering, petty jealousies, and down-right stupidity.

This volume is almost out of print, hence the higher price.


11¾" x 7½" 106 pages, full color illustrations, index, paperbound ISBN 0-932514-31-6
#F1 Cartoon History of DC $25.00

DC Neighborhoods Flashbacks Vol. Two Artist-writer Patrick M. Reynolds takes you to the Washington that tourists seldom see The U.S. capital expanded with the growth of public transportation into such areas as Shepard Park, Takoma Park, Chevy Chase, Kalorama, Dupont Circle, Adams Morgan, Capital Hill, LeDroit Park, Tenleytown, Brookland, and others. Stories in this book go back to the explorations of Capt. John Smith in the 1600s and the Indian Wars of early Virginia, continuing into the 20th century with the introduction of the cherry trees to Washington and the end of segregation in public schools.
11¾" x 7½" 106 pages, full color illustrations, index, paperbound ISBN 0-932514-33-2
#F2 Cartoon History of DC $25.00
http://ww5.aitsafe.com/cf/add.cfm?userid=7098377&product=F1+-+A Cartoon History of the District of Columbia&price=14.95&units=14.95