The African American Labor Movement
First of four parts The Colored National Labor Union
1. The first national African American labor union was organized in December 1869 by some 214 delegates in the Union League Hall on the west side of 9th Street, NW between E and F Streets in Washington, DC.
Delegate in foreground, "I nominate Isaac Myers to be our president."
Delegate seated, "Seconded."
Note: Myers is standing on the right.
2 Myers was a ship caulker, a vital job in the builiding and maintinance of wood hulled ships. Caulkers plugged the seams in the hull to prevent leaks, using cotton or oakum, the yarn from which hemp ropes were made. Then the seams were sealed with tar.
3. Since the mid 1850s Myers had worked off and on at the shipyards in Baltimore, Maryland alongside whites. Myers ws caulking ships at Henderson's Wharf on Fell Street Until Shortly after the Civil War ended in 1865 the white caulkers went on strike demanding that all black caulkers be fired.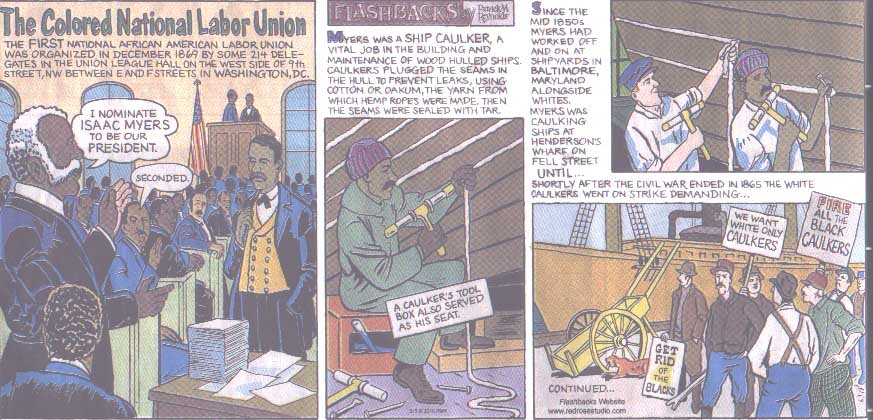 The Baltimore Book - New Views of Local History
Baltimore has a long, colorful history that traditionally has been focused on famous men, social elites, and patriotic events. The Baltimore Book is both a history of "the other Baltimore" and a tour guide to places in the city that are important to labor, African American, and women's history. The book grew out of a popular local bus tour conducted by public historians, the People's History Tour of Baltimore, that began in 1982. This book records and adds sites to that tour; provides maps, photographs, and contemporary documents; and includes interviews with some of the uncelebrated people whose experiences as Baltimoreans reflect more about the city than Francis Scott Key ever did.The tour begins at the B&O Railroad Station at Camden Yards, site of the railroad strike of 1877, moves on to Hampden-Woodbury, the mid-19th century cotton textile industry's company town, and stops on the way to visit Evergreen House and to hear the narratives of ex-slaves. We travel to Old West Baltimore, the late 19th-century center of commerce and culture for the African American community; Fells Point; Sparrows Point; the suburbs; Federal Hill; and Baltimore's "renaissance" at Harborplace. Interviews with community activists, civil rights workers, Catholic Workers, and labor union organizers bring color and passion to this historical tour. Specific labor struggles, class and race relations, and the contributions of women to Baltimore's development are emphasized at each stop.
9" x 11" index, fully illustrated, 268 pages, paperbound
#510 The Baltimore Book $31.95
Second of four parts. Leaking Profits
1. Continuing the story about the African American labor movement.
White ship caulkers in Baltimore went on strike in 1865 demanding that every black caulker be fired.
2.The black caulkers stayed on the job and, for a while, management and sentiment were on their side.
3. In a short time the strike began to have its effects.
First executive, "...because of our shortage of skilled labor we cannot finish jobs on time and we're losing customers."
Second Executive, "Our stockholders are worried about our profits and want us to resolve this strikc quickly."
4. Ultimately shipyard owners made a decision.
Newspaper headline, "Shipyards Dismiss Blacks."
5. Undaunted, several business and civic leaders took action. They included from left: John N. Smith, William Applegarth, John W. Locks, Joseph Thomas, Isaac Myers, and Walter Sorrell.
John Locks, "So, it is decided." Jos. Thomas, "We need to raise $10,000 to open our own shipyard."
6. Over the following months, collections for the shipyard were taken up in churches and businesses.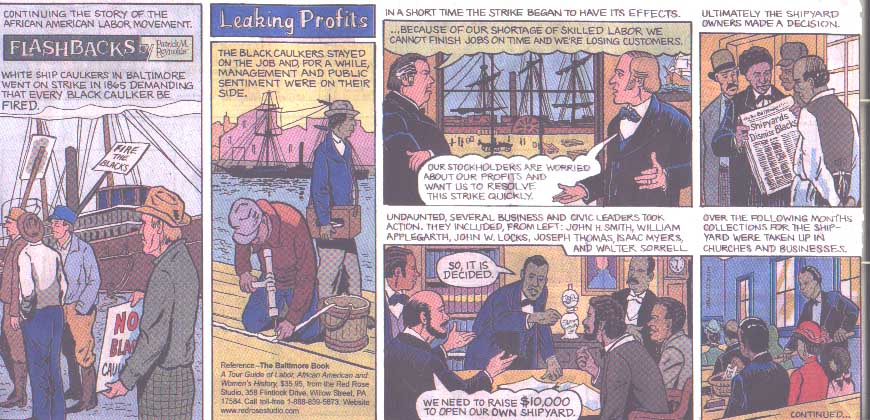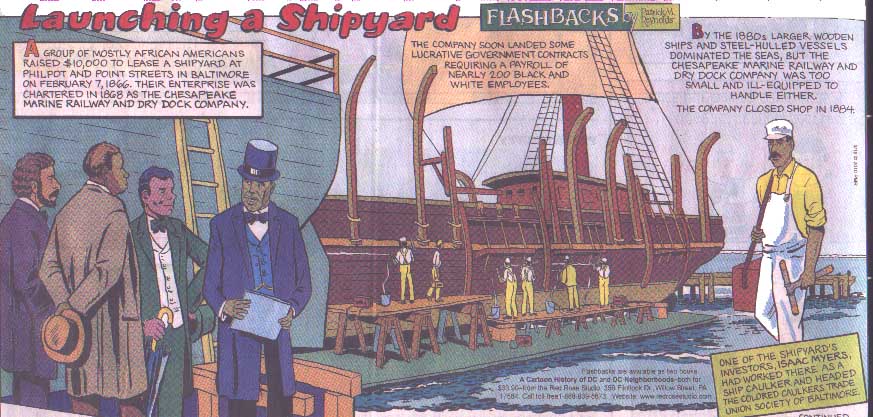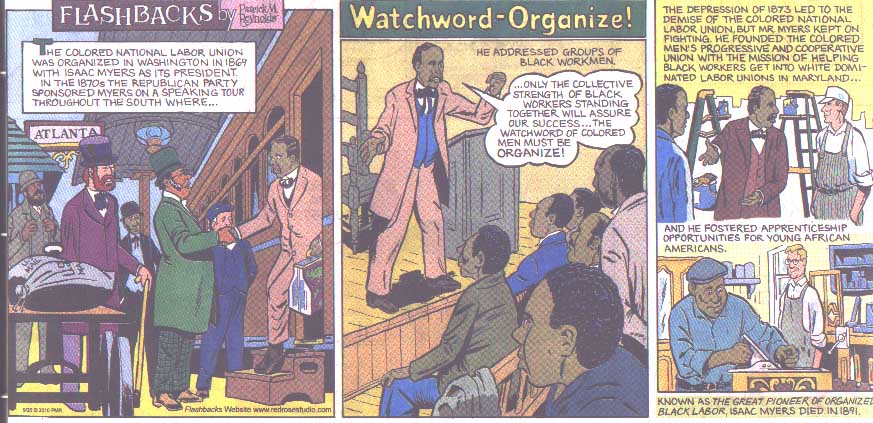 Flashbacks Volume One
A Cartoon of the District of Columbia Flashbacks Volume One Patrick M. Reynolds brings history to life with a sense of humor. His exciting drawings put you on the scene with the conflicts, madness, plus the wheeling and dealing that resulted in the location and construction of the U.S. capital city. This book covers the early history of DC from 1776 to 1863. You'll be surprised at how many cities served as the U.S. capital; you'll be amazed that the city was built--despite all the bickering, petty jealousies, and down-right stupidity.
11¾" x 7½" 106 pages, full color illustrations, index, paperbound ISBN 0-932514-31-6
#F1 Cartoon History of DC $25.00
Flashbacks Volume Two
DC Neighborhoods Flashbacks Vol. Two Artist-writer Patrick M. Reynolds takes you to the Washington that tourists seldom see The U.S. capital expanded with the growth of public transportation into such areas as Shepard Park, Takoma Park, Chevy Chase, Kalorama, Dupont Circle, Adams Morgan, Capital Hill, LeDroit Park, Tenleytown, Brookland, and others. Stories in this book go back to the explorations of Capt. John Smith in the 1600s and the Indian Wars of early Virginia, continuing into the 20th century with the introduction of the cherry trees to Washington and the end of segregation in public schools.
11¾" x 7½" 106 pages, full color illustrations, index, paperbound ISBN 0-932514-33-2
#F2 Cartoon History of DC $14.95