Role Monster
1. Glenn Strange had one of the most famous faces in movie history, but it was not his own.
It was Universal Studios' version of the Frankenstein monster, first played in 1931 by an English actor named Boris Karloff.
2. After a 3rd film, Karloff refused to play the monster agian. He didn't until 1962 on TV's Route 66.
3. Universal cast Lon Chaney, Jr (shown here) in The Ghost of Frankenstein (1942), then Bela Lugosi in Frankenstein Meets Wolfman (1943), but the studio execs were not impressed.
1st exec: "Let's hire somebody who looks like Karloff."
2nd exec: "We'll give hime little to do and just let the other actors carry the story."
4. They selected Glenn Strange, a 6'5," 220 lb. actor who had portrayed a villian in several hundred westerns.
5. Mr. Strange appeared in House of Frankenstein (1944), shown here with Karloff, and House of Dracula (1945).
6. Universal brought the series to an end in 1948 with Abbott and Costello Meet Frankenstein. Strange would do the monster once more on The Colgate Comedy Hour, February 21, 1954.
7. Glenn gained fame with his onwn face ad Sam the bartender on the TV series Gunsmoke for 11 seasons.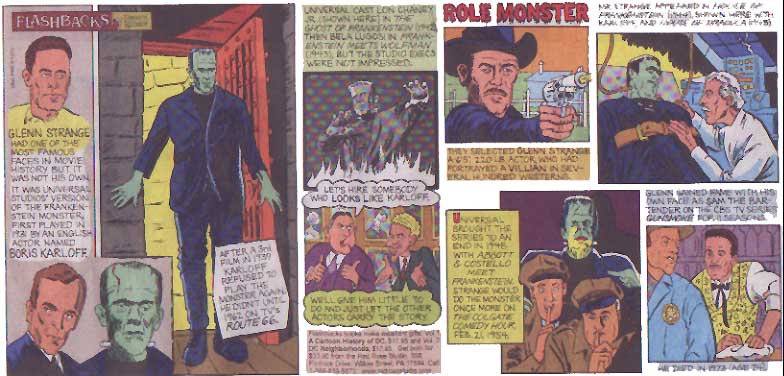 This book contains the obituaries of Boris Karloff and Bela Lugosi. Either the author never heard of Glenn Strange, or considered him not enough of a major star to be included.

Fade to Black A Book of Movie Obituaries
by Paul Donnelley
This spicy and addictive book chronicles the lives and deaths of over 1,000 movie personalities. Included are not just the big stars but a wealth of important characters from the history of film. Some achieved world fame or great power; some were consigned to obscurity after one scandal too many. Others hid dark secrets that would only everge after their deaths.
The actors, producers, and directors are listed alphabetically. The only drawback to this book is that there are no photos in it.
6" x 9" 753 pages, paperbound ISBN 0-7119-9512-5
#45 Fade to Black $29.95