Robert Smalls
The original art of each Flashbacks story is for sale, as well as signed prints ideal for framing.
For prices, and to see what an original looks like, CLICK HERE.
This is a six-part story. References appear below the story.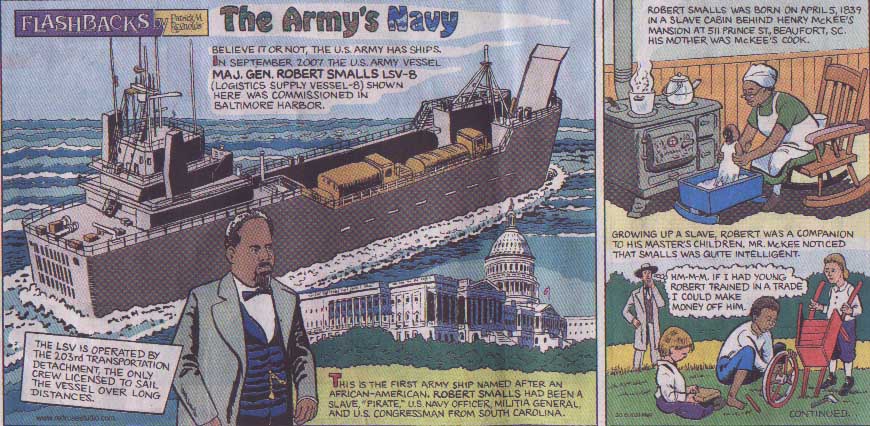 Part Two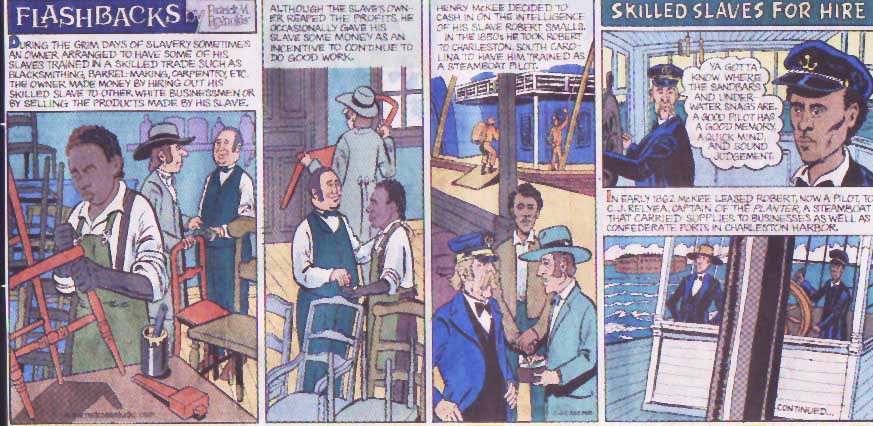 Part Three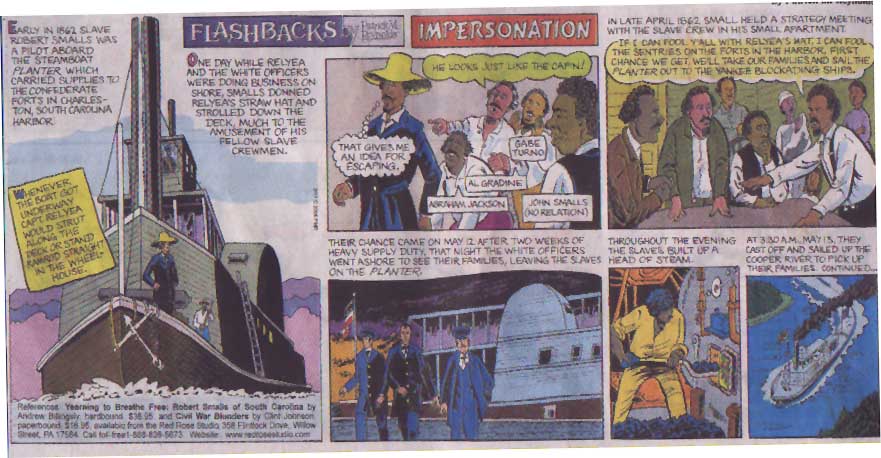 Part Four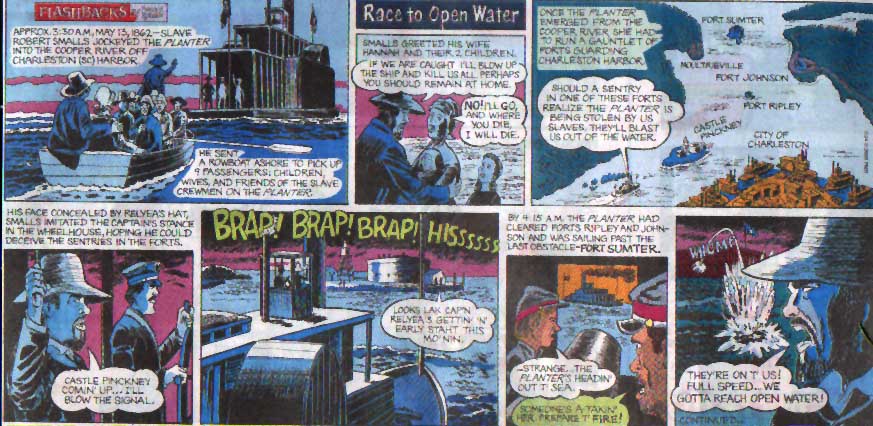 Part Five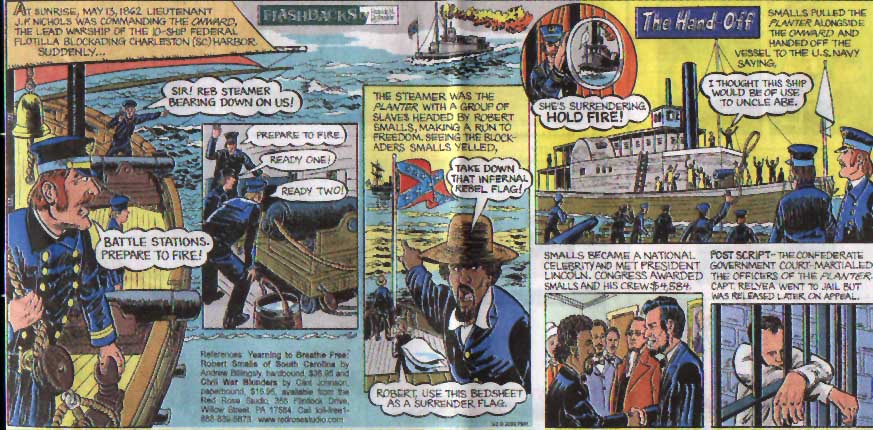 Part Six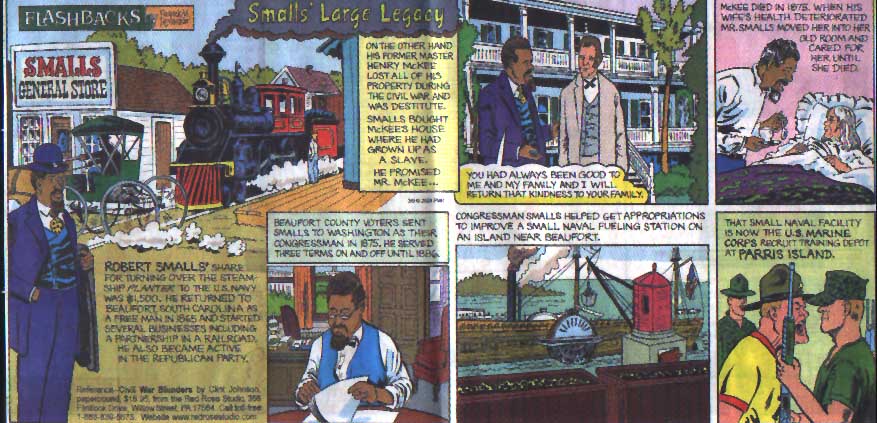 For more on African American history click here.
Yearning to Breathe Free Robert Smalls of South Carolina and His Families
by Andrew Billingsley
This is a well-researched, comprehensive biography of a slave whose bravery and cunning enabled him to escape from slavery by absconding with a weapons-laden steamboat with the entire slave crew and their families. He went on to captain Federal ships in the Civil War and, during Reconstruction, became a U.S. Congressman. This is an easy read that gives the exciting details of his life and career while showing his love and devotion to his family and his sentiment toward the family of his former masters.
6" x 9" 253 pages, index, photos, hardbound ISBN 978-1-57003-686-6
#488 Yearning to Breathe Free $34.95

Robert Smalls Sails to Freedom
By Susan Taylor Brown, Illustrated by Felicia Marshall
This is a children's book, written on a third grade level. The type is large and every page contains beautiful, full-color, realistic paintings. It narrates Smalls' life from childhood to his daring escape in 1862. An Afterword tells what happened to Mr. Smalls in his later life.
6" X 8½" 48 pages, Illustrated, Paperbound ISBN 0-8225-6051-8
#489 Robert Smalls Sails to Freedom $5.95

Civil War Blunders
By Clint Johnson
The story of Robert Smalls is one of the episodes in this entertaining, informative tome.
There was little funny about a war in which some 620,000 humans died. But it was finding humor amid devastation thatkept Civil War soldiers marching toward the enemy. Union or Confederate, those in command proved adept at goofing up. Many were drunks, couldn't speak English,didn't know a cannon's breech from its muzzles. There are over 65 stories of such characters as Col. Ed Baker, who told his Federals to follow the plume of his hat if they wanted to find the war—and sent them over a clipff in a panicked retreat...and Gen. Felix Zollicoffer, who wore a white raincoat so the opposing Federals could see him—bu not his eyeglasses so he could see them.
6" x 8" 328 pages, index, paperbound ISBN 0-89587-163-7
#231 Civil War Blunders $13.95
Would you like to own an original Flashbacks cartoon?
Click Here.

Here are two volumes containing reproductions of Flashbacks cartoons:

Flashbacks Volume One
A Cartoon of the District of Columbia
Patrick M. Reynolds brings history to life with a sense of humor. His exciting drawings put you on the scene with the conflicts, madness, plus the wheeling and dealing that resulted in the location and construction of the U.S. capital city, despite all the bickering, petty jealousies, and down-right stupidity.

This volume is almost out of print, hence the higher price.


11¾" x 7½" 106 pages, full color illustrations, index, paperbound
ISBN 0-932514-31-6
#F1 Cartoon History of DC $25.00

DC Neighborhoods Flashbacks Vol. Two Artist-writer Patrick M. Reynolds takes you to the Washington that tourists seldom see The U.S. capital expanded with the growth of public transportation into such areas as Shepard Park, Takoma Park, Chevy Chase, Kalorama, Dupont Circle, Adams Morgan, Capital Hill, LeDroit Park, Tenleytown, Brookland, and others. Stories in this book go back to the explorations of Capt. John Smith in the 1600s and the Indian Wars of early Virginia, continuing into the 20th century with the introduction of the cherry trees to Washington and the end of segregation in public schools.
11¾" x 7½" 106 pages, full color illustrations, index, paperbound ISBN 0-932514-33-2
#F2 Cartoon History of DC $14.95
Previous weeks' stories and references:
Animals...Atomic Bomb....Aviation History...Children...Constitution-How & Why we got it...Civil War... Autocamping...American Presidency...Auto Racing...Baseball History...the Bible & the Presidency...Blizzard of 1888...Bubble Houses...Chinese...Combat Artists...The CCCs...Declaration of Independence...The Ghost Army of WWII... Artists in War The Limb Maker...Duke Ellington...Ferries Across the Chessie .. Food History,,, HOLIDAYS...German Americans...Italian Americans...The Italian Crisis...Ninian Beall Sequence.....UFOs Over Washington... Culpeper of Virginia...The Spanish Flu Epidemic of 1918...Indians of the Eastern Shore of MD & VA...Black History... Pirates on the Chesapeake...Chesapeake Beach...Quiltmaking...Chesapeake Bay Stories...Ghost stories... Maryland History...Music History...Naval History (Seebees, Armed Guard, etc)...Rock & Roll History...Hoover Airport...Slavery...Swampoodle...Sports...Origins of Words & Phrases...Inventions...Railroads...Virginia History...Washington, DC History...Nazis in America...Wilkes Expedition...Stamps...Women...Girl Scouts
e-mail: pat@redrosestudio.com
Link: URL: http://www.artlinkslist.com/
Description: Arts Directory