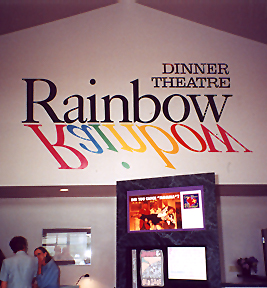 Rainbow Dinner Theater in Pardise wanted their logo painted above the entrance. None of the "digital" or "computer" sign companies would touch the assignment because they could not reproduce the "colorful reflection." So, the sign had to be hand painted, and the Red Rose Studio did the job.
For over forty years I have been painting signs on all kinds of surfaces for many organizations: businesses, schools, colleges, hospitals, theaters, government agencies, clubs, etc.
If you do not want the computer-generated, stick-on letters, or if you have a special logo, coat of arms, monogram, or picture that you want to have painted on any surface, contact us.

This jewelry store has been around for decades, so when new owners wanted the sign touched up, yet retain that old feeling, they called the Red Rose Studio. We actually made a new sign and hand-lettered the new copy, and painted the old filigreed border. The sign is bolted to a brick wall.